Associate Professor Lee from Hallym University (Korea) Visits the University of Aizu
On Monday, January 7, 2008, Associate Professor Seon-woo Lee from the College of Information and Electronic Engineering of Hallym University, Korea, visited the University of Aizu and a written agreement for cooperation between the College (signed by Professor Seop-hyeong Park, Dean) and the Department of Computer Science and Engineering of the University of Aizu (signed by Professor Kenichi Kuroda, Dean) which was concluded on December 27 of 2007, was handed over President Tsunoyama. Associate Professor Seon-woo Lee had a cordial meeting with the attendance of Dean Kuroda, Professor Hiroyuki Sagawa, Director of Center for Strategy of International Programs, and Associate Professor Jung-pil Shin from the University of Aizu.
Both universities agreed to provide support for faculty members and researchers participating in joint education and research programs, to offer mutual admission for students between the universities, and to promote information exchange regarding academic research by preparing specific working programs.
Mutual exchange between Hallym University and the University of Aizu had been discussed since Associate Professor Lee visited the University of Aizu to participate in an international conference. Associate Professor Shin was then invited to Hallym University to give a lecture in July of 2007, which ultimately facilitated the conclusion of this cooperative agreement.
Four students from Hallym University also came to Japan with Associate Professor Lee, and they are scheduled to take part in a short-term study program for about one month at the University of Aizu.
| | |
| --- | --- |
| Commemorative photo | Scene from the meeting |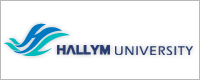 Hallym University
Hallym University was founded in 1982. It is located in Chuncheon, Gangwon-do, Korea. Currently, the University has a total of 8,216 enrolled students and 1,283 faculty members in the College of Humanity, the College of Social Studies, the College of Natural Science, and the College of Medicine. Following Hallym University's substantial growth and development, the University has been accepted for projects implemented by the Korean Ministry of Education and there are high expectations for the University as one of Korea's promising institutions for advanced learning.