Our students did a great job at the "Utsukushima Triathlon Race."
On Sunday, August 20, 2006, the "Utsukushima Triathlon Race" took place in Aizu and at the University of Aizu. Eight students from our University took part in this race and some fifty students supported the race as voluntary staff.
The highest finish in the race among our students was achieved by Yuta Masuda, a second-year student of the Undergraduate School. He was the 24th triathlete to finish the race out of 284 participants that finished the race on this day.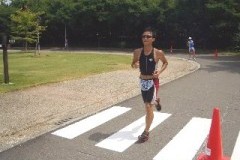 A University of Aizu student finishing the race.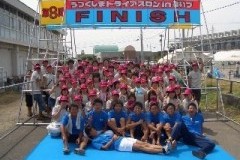 A full array of University of Aizu students who took part in the race as triathletes or supporting staff