The Party to Celebrate the Conferment of the Order of the Sacred Treasure to Former University President Noguchi
Dr. Shoichi Noguchi, the second President of the University of Aizu (term of office: April, 1997 to March, 2001), was conferred the Order of the Sacred Treasure, Gold Rays with Neck Ribbon in autumn, 2006. To celebrate the conferment of the order to Dr. Noguchi, over 100 people including those from local political and business circles, and those related to the University participated in a celebration which was held at Aizu-Wakamatsu Washington Hotel on Saturday, February 10, 2007.
In his speech, Dr. Noguchi expressed his appreciation in regard to celebration of the conferment, and his aspirations, stating that he would like continue working for twenty-five more years, in spite of his age.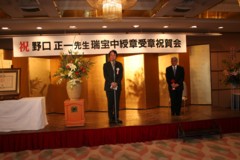 Speech by Chairperson Tsunoyama of the Board of Executives, a representative organizer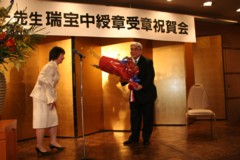 Presentation of a bouquet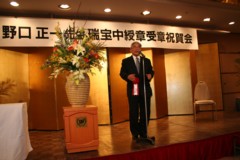 Acceptance speech by Dr. Noguchi