The Live Broadcast of the Lunar Orbit Explorer "KAGUYA" (SELENE) Launch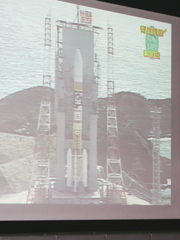 the Lunar Orbit Explorer "KAGUYA" (SELENE)
On Friday, September 14, 2007, the launch of the lunar orbit explorer "KAGUYA" (SELENE) was broadcast live at the Auditorium of The University of Aizu. The broadcast was implemented under a memorandum regarding promotional use of "SELENE"exploratory data signed between The University of Aizu and the Institute of Space and Astronautical Science of the Japan Aerospace Exploration Agency (JAXA).
400 people, ranging from children in kindergarten to adults attended the event open to the public and watched a live broadcast from the Tanegashima Space Center. A round of applause was given at the moment of the launch at 10:31:01 a.m..
After the launch, Professor Noriaki Asada, Assistant Professor Hirohide Demura, and Assistant Professor Naru Hirata explained the University's involvement in the "KAGUYA" mission.
| | |
| --- | --- |
| Scene from the broadcast venue | Audience watching the launch |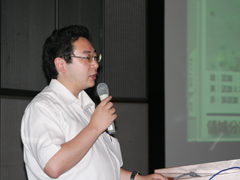 Assistant Professor Demura explaining the University's involvement