Microsoft, F-COM and UoA concluded "Comprehensive Fundamental Agreement Concerning Fukushima Prefecture Region IT Industrial Business Activation."
Microsoft Co., Ltd., F-COM Co., Ltd. and the University of Aizu concluded an agreement concerning cooperation among relevant parties, nurturing IT engineers and accumulation of business opportunities intended for activation of information industry businesses in Fukushima Prefecture on September 5. Specifically, the following items have been included in the agreement.
Public lectures will be offered at the University of Aizu, for the purpose of nurturing engineers who can make full use of ".NET."
Events intended for activation of local communities with information technology will be organized centered around residents and people from local industry.
Establishment of a study group will be examined intended for exchange of information technology centered around system engineers from venture companies within Fukushima Prefecture and those who graduated from the University of Aizu, who have mastered expertise pertaining to use of ".NET."
A commemorative lecture titled "Success of IT Ventures and Regional Promotion" given by Mr. Darren Huston, President of Microsoft Co., Ltd. Japan followed the conclusion of the agreement. Approximately 180 people attended the lecture, including those from the University, local industry and general citizens.
*".NET" is an environment and a tool for development of IT systems created with software technology developed by Microsoft Co., Ltd.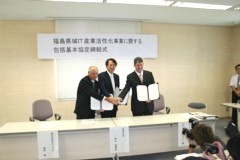 Signing Ceremony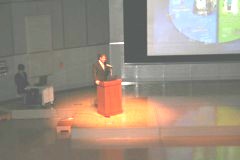 Commemorative Lecture by Mr. Huston, President of Microsoft Co., Ltd. Japan