The University of Aizu co-organized the "Nikkei Business Creation Seminar"
The University of Aizu and Nikkei Shinbun jointly held the Nikkei Business Creation Seminar at Nikkei Hall (Ote-machi, Chiyoda-ku, Tokyo) on Monday October 30.
Following the opening address by Chairperson Tsunoyama of the University of Aizu Board of Executives, Mr. Norio Murakami (President of Google, Japan) gave a lecture under the title of "Challenging the World of Knowledge with IT." This lecture was followed by a panel discussion on the theme, "Future of Web 2. 0 and Expectations for Universities," by panelists including the above-mentioned two persons, Dr. Rieko Muramoto (Director of Galla Research Institute), and Mr. Fumihiko Ueno (President of SYNC Inc.), with Mr. Hiroshi Nakajima (Director of MM Research Institute) as a discussion coordinator.
Comments and opinions were exchanged during the discussion, some examples for which are quoted below.

"English language skills are indispensable not only in IT-related areas but also other areas. Intensive English education conducted at the University of Aizu is a great advantage."
"I have found interesting research going on at the University of Aizu, and hope to have some collaboration with the University of Aizu."
"As the University has been producing excellent research results, more concentrated efforts should be placed on advertisement and promotion of these results."
"I hope that we will see innovative ideas spread from Aizu Wakamatsu, a city with distinctive features."
Lecture by Mr. Murakami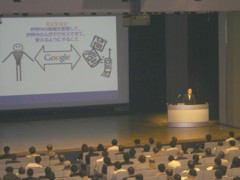 Panel Discussion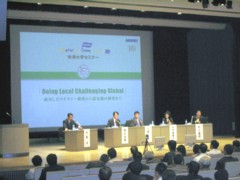 Panel Exhibition of Research Results by UoA Faculty